Day Package
(Without Accommodation)
A splendid gateway offer for a day's outing. 
Per Adult – MRP
₹ 1,750
Per Child (3-10 years) – ₹ 875
(prices are inclusive of taxes)
Guest are requested to arrive by 9 am to enjoy to the fullest as our facilities run on a schedule.
Saguna Baug has something for everyone!
We offer everything you need for a full day of excitement and relaxation with the whole family.
Guests can enjoy fun thrilling activities while children can also learn how and where delicious fruits and vegetables are grown.Come for a relaxing getaway and go home with a once in a lifetime experience.
Activities:
9 am – 12 pm
Enjoy an unlimited breakfast served with your choice of tea or coffee. Followed by a guided agro tour and have some homemade refreshments on the way.
(Jain food available on request.)
The following activities take place at this time:
Farm Tours
Dragnet Fishing
Mallakhamba
Dairy Farm Tour
Nursery
Emu Farm
12 pm – 3 pm
Enjoy delicious unlimited Maharashtrian lunch(Rice + Dal + Chapati + 2 vegetable dishes + Salad + Papad + Buttermilk + Sweet)
(Jain food available on request.)
The following activities take place at this time:
3 pm – 5 pm
Relax in the hammocks, explore the farm, go rod fishing or paddle wheel boating. Tea and coffee will also be served during this time.
The following activities take place at this time:
Rod Fishing
Paddle Wheel Boating
Saguna River-side Camping
Per Adult – MRP 
₹ 1,600 

 reduced to ₹ 1,440

 (Flat 10% Discount on MRP)

Indulge in a rejuvenating open-sky therapeutic experience amidst a rustic & beautiful farm, right on the banks of Ulhas river, overlooking the magnificent Matheran mountain range !! 🌿
We welcome you to stay at Saguna Baug River Side Camps
What you get?
Stay in Camping tents from 5pm to 10am.
Clean & comfortable bedding
Accessible & Sanitized washrooms
Complete Covid precautions
Evening tea, Rural style veg / nonveg dinner, Indian breakfast.
Boating, Fishing, Cow-milking, Kayaking
Camp-fire
A guide, access to Saguna Baug complex
What you do
Day 1
5.00 pm
Arrive. Freshen up. Proceed to Campsite keep luggage in locker.
5.30 pm
Tea / coffee, Cow milking, Boating & fishing.
7.30 pm
Leisure
9.00 pm
Dinner (Veg & Non veg)
10.00 pm
Camp-fire.
Day 2
07.30 am
Morning tea.
09.30 am
Breakfast.
10.30 am
River Swimming & Kayaking.
11.00 am
Check out.
Photos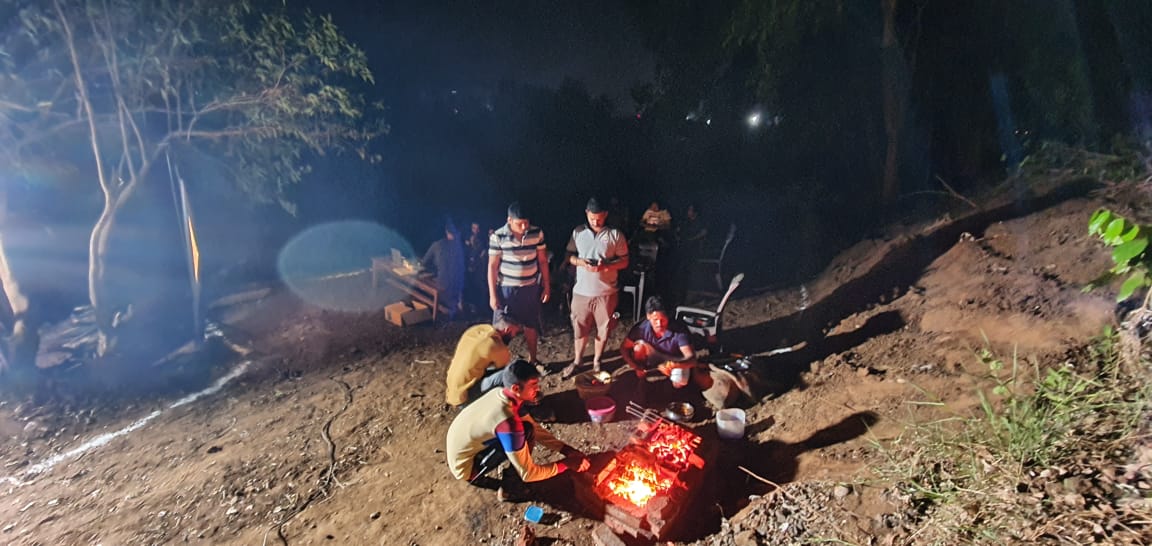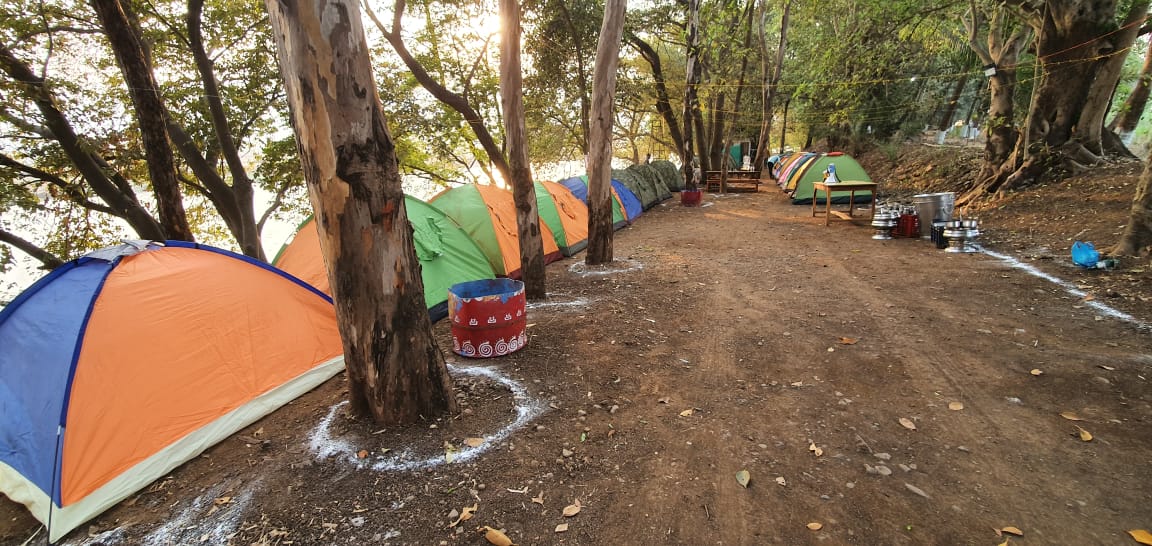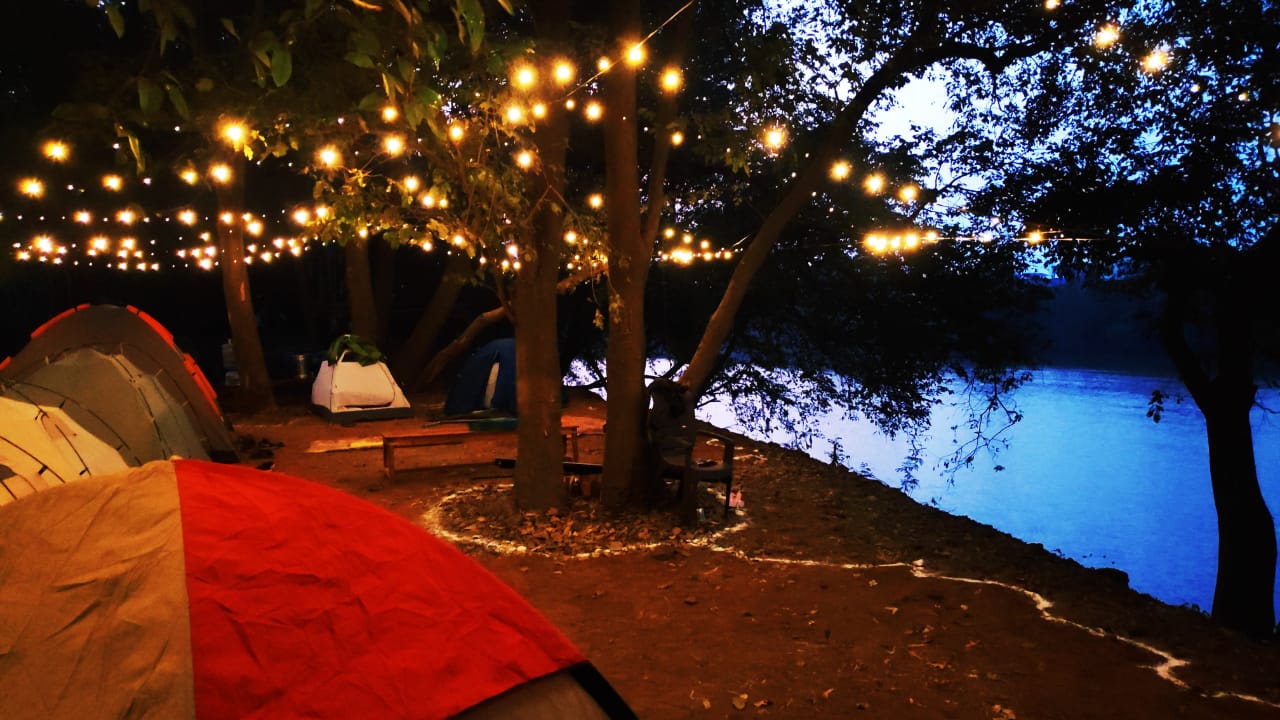 Other Packages
Schools & Colleges
In the times we live in, it is vital that future generations understand the importance of environmental preservation and the means to protect it. Saguna Baug has been a shrine to the wonder of nature for over fifty years!It is our youth that will carry forward the torch of protection of the environment.
We educate the children according to their syllabus from 1-10. Students can learn the benefits of rainwater harvesting techniques, agriculture, gobar gas, medicinal plants in a safe and well-supervised environment and enjoy nutritious farm to table.
College students can enjoy time away from their busy schedules while still learning a great deal about alternative energy sources such as gobar gas during their visit to the farm.
Microbiology and Botany students can gain in-depth information about animals, plants, and micro-organisms.
Take part in group activities such as treasure hunting and team-building games.
For Bookings Kindly Contact Us.
(Note:- Minimum 20 people required to book, these rates are not applicable on weekends and bank holidays)
Weddings
For such a special day what better place than in the heart of nature. A perfect venue Saguna Baug can easily accommodate 1200 people.
60 guests can be housed for overnight stay. We provide catering veg and non veg meals. We have a staff of 120 helpful people. We have the Raja horse and Horse carriage.Note:- Outside caterers and decorators are welcome.
Film & Photo Shoots
Nestled in the foothills of Matheran, the outdoors provides us with exceptional beauty year-round. Saguna Baug is the ideal location for any film or photoshoot.
Call us for special discounts for Teachers, Senior Citizens, Weddings, Photoshoots, and Private Tutions etc.
Discounts
Minimum 10 People – 30% Discount
Minimum 50 People – 35% Discount
Teachers – 10% for groups of 10 or more
Senior Citizens- 10% for groups of 10 or more
50% off for any specially-abled person
Non-vegetarian dishes are available at an additional charge.
1 kg chicken: ₹800
1 kg Gavathi chicken: ₹1000
1 kg mutton: ₹1400
1 kg fish: ₹800